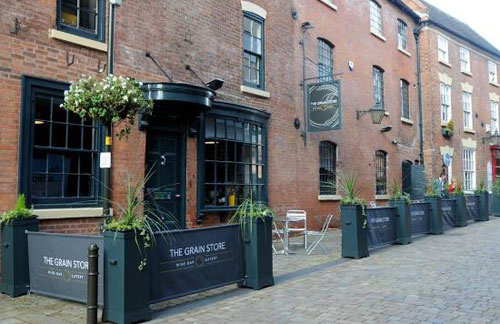 Jukebox Installation is the Perfect Solution for The Grain Store
The Grain Store is a pub located over two floors within a beautiful Grade II listed Victorian building in Wolverhampton city centre. Boasting an outdoor beer garden, which is rare for a city centre pub in Wolverhampton, the décor is contemporary with a beautifully decorated bar and exposed brick walls.
During the daytime, the pub is used for serving food and is often inundated with local office workers after 5 pm. The pub offers a civilised atmosphere and an attractive menu with a good selection of beers and wines to complement. Later in the evening, the tables and chairs are moved to make-way for a DJ and dance-floor, and the pub transforms to attract a completely different clientèle.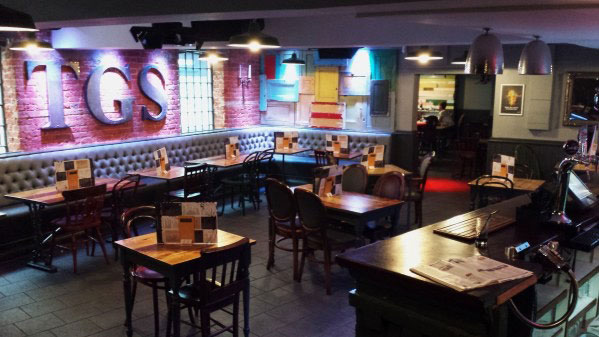 The Grain Store were considering the idea of hiring a jukebox for the bar but were unconvinced how it would work for them, serving different types of customer, at different times of the day. Hire Jukebox recommended the Venuehub jukebox, which turned out to be the perfect solution! Not only can customers choose the music that they want to hear, but the venue managers also have the flexibility of controlling the background music settings and timers in order to play the right background music to the right audience.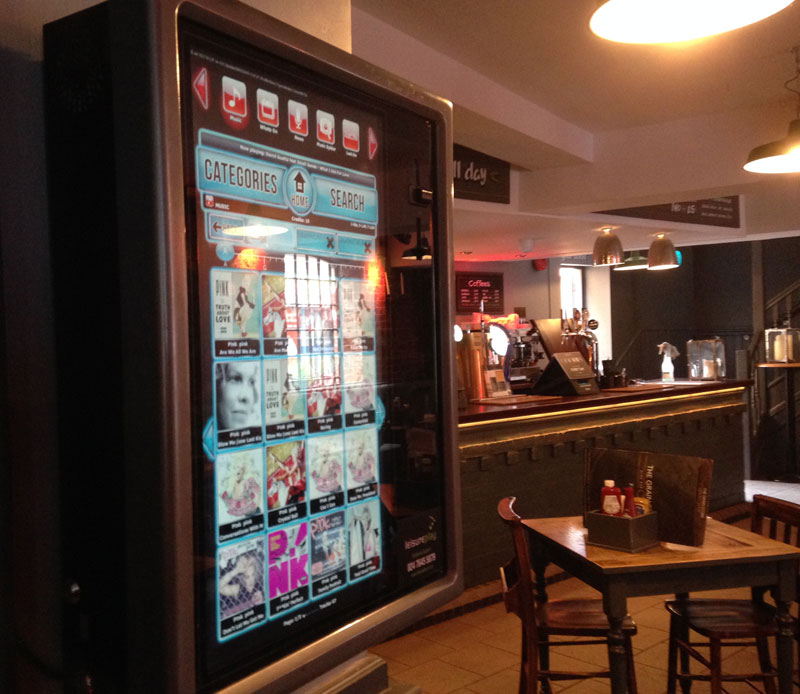 The pub chose to play classic, laid-back music from the 1980's to the present, which creates a relaxed atmosphere and suits their daytime clientèle. From 6 pm until 8 pm the tempo is slightly raised and chart hits from the 1990's to the present day are played. From 8 pm onwards the venue created some house music and dance anthem playlists which are suitable for the crowds arriving at that time of day – if the DJ isn't playing.
The jukebox is positioned in a prominent position so that all of the pubs customers can see it. Due to the width of the pillar on which we installed the jukebox, the slightly smaller 23″ VenueHub was the ideal choice as it's the perfect jukebox for when wall space can be an issue.
To enhance customer experience at The Grain Store the jukebox was connected to soundjack. A new jukebox app which can be downloaded and used from a smartphone or tablet device, allowing customers to select the songs that they want to play – and all of this is done remotely! Which is the perfect solution for this venue, covering two floors and an outside drinking area. They also promoted the soundjack app via their Twitter account, which incidentally, is also displayed on the jukeboxes touch screen display.
The Grain Store have also taken full advantage of the built-in advertising features on the Venuehub jukebox. Uploading JPEG posters to advertise forthcoming events and uploading new photographs every Monday of the previous weekend's events – keeping their customers engaged with the jukebox, staff and venue.