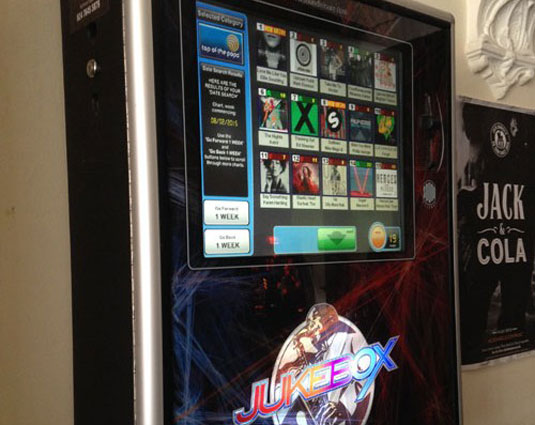 Free Jukebox Hire Proves Successful at The Forge Tavern
The Forge Tavern is a traditional pub located in Digbeth, Birmingham. An industrial area of Birmingham that has been regenerated with new businesses, offices and modern apartments. It's a unique and arty area with a real trendy vibe which leads to a large mix of consumers. The Forge Tavern is also frequently used by Birmingham City FC fans as the local football ground is just a short distance away from the pub.
The Forge Tavern loved the idea of having a jukebox installed but were concerned about paying jukebox rental and installation costs. They were previously using an iPod to entertain their customers but found that they would be constantly asked to change the music or to play a particular song. This was becoming a real problem.
The customers had such a diverse range of music tastes that it seemed difficult to please everyone and it became a distraction for bar staff, especially during busy periods, to have to constantly attend to their customers music choices.
It was only when a local punter did some research online for jukebox companies in the West Midlands, that they found the Hire Jukebox website. After a quick call to Hire Jukebox team, it was explained that the pub could have the very latest digital jukebox installed in the bar at no cost. Installation is free, there is no charge for service calls and no binding contract.
The profit share deal means that the pub will not be committed to paying ongoing jukebox rental charges as there is no cost at anytime. It's a win win situation!
The jukebox was set up to play background music. Choosing random music from a list of genres that the locals pre-requested – indie, rock, irish and chart music. When a paid song is selected the background music song playing at that time is fades out and the paid track fades in seamlessly.
When the customers want to choose their own music – they now use the jukebox!
The owners have been overwhelmed by the success of the jukebox. Not only has this resolved the issues with customers asking staff to change the music, but it has also been a financially successful endeavour, with the jukebox bringing in more profits for the pub.
If you want to hire a jukebox with no rentals costs and share the profits with us then call the Hire Jukebox team on 02476 455879 or simply fill in the online form.
We offer national coverage.