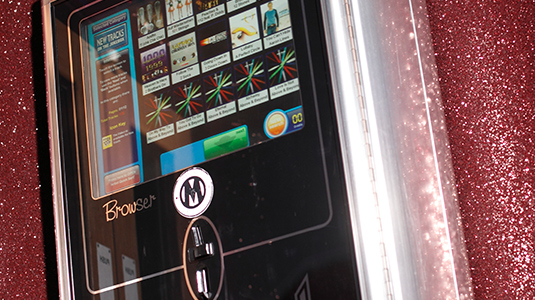 WARNING! Not all Jukeboxes are the same
A jukebox is just something to play music in the pub, right? Actually, not all jukeboxes are alike at all.
It is essential to choose the right jukebox for the venue that it is going into. If you have any doubts about choosing the right jukebox for your own site – talk to us. Hire Jukebox are jukebox experts and we are here to help.
When we make an investment for our homes, whether it be a TV, washing machine or even a car – we tend to do our research and read some reviews. It is normal to check the make, model, warranty and of course the price, so why wouldn't we do the same when choosing a jukebox?
Just as cars differ, so do jukeboxes and just because a jukebox plays music doesn't mean it's any good or even suitable for your venue.
This why we can help. Hire Jukebox offers a wide range of digital jukeboxes. So when it comes to choosing the right jukebox for your venue, we can make sure you make an informative choice.
We like to know all about your pub, bar or social club so that we can help you choose the perfect jukebox for your venue.
Basically, the most important factor on any digital jukebox is music content.
The Sound Leisure "The Jukebox" has over 30,000 tracks including every UK Top 40 chart release since 1952. Every week the jukebox is automatically update via an online connection, providing you with the very latest chart releases and new album titles.
New music updates are essential to maintain customer interest and keep cash box levels high. We have seen significant growth in cash box levels since we updated jukeboxes twice a week with new music. Not all digital jukeboxes have this facility or this level of music content.
For sites with a more serious interest in music, however, Sound Leisure's VenueHub, not only has all the popular music content that is available on "The Jukebox" but also has 7 million tracks available to download on demand from it's seriously impressive online music library. No other coin-operated jukebox in the world has this level of music content.
If mainstream chart music is not for your venue, then you may want to consider the RockBox. This is the only jukebox in the UK with music content of such diversity. It boasts over 10,000 popular hand-picked tracks from a wide range of genres including Rock, Punk, Ska, Reggae, Alternative, Indie and Metal. In the right venue, the RockBox is a highly profitable jukebox and caters to customer demand. New music updates help maintain interest and increase profitability. Furthermore, Hire Jukebox can also upload music from local bands and artists onto the jukebox again creating more interest and making the jukebox more bespoke to the venue.
Case study
The Barrel at Crewe is a busy pub and it has a fruit machine and a pool table that do well. But for some reason the digital jukebox was not being used.
The landlord Shaun Davis said "I couldn't understand it. We are a pub full of music lovers, but they just weren't playing the jukebox. The jukebox was getting updated once in a blue moon and when it was, the songs were already out of the charts. We decided to do some research and found Hire Jukebox. After meeting up with Marc, I realised that my gut feeling was right. It's not the pub that's the problem, it's the jukebox. I can strongly recommend Hire Jukebox – they listened to what we wanted and came up trumps! We can't thank them enough".

"The previous jukebox had very limited music content and the operating software made it confusing for customers to find their songs," said Marc. "Speaking to the owners, staff and customers, I knew there was demand for a jukebox. It was simply a case that they didn't have a good one. The jukebox wasn't being played because of the poor level of music content and lack of new music updates.

"We advised the site to upgrade to our a jukebox that has over 30,000 songs including every UK top 40 chart release since 1952. The site didn't have Wi Fi so we installed a Mi Fi dongle. This enabled them to receive online music updates twice a week. The cashbox levels have been amazing. We are really pleased we saw the potential here with what has proved to be one of our best sites."
The following two tabs change content below.
Marc Bird
Jukebox Technician
at
Hire Jukebox
Hire Jukebox
supply digital touchscreen jukeboxes to pubs, clubs and other social venues.
Latest posts by Marc Bird (see all)