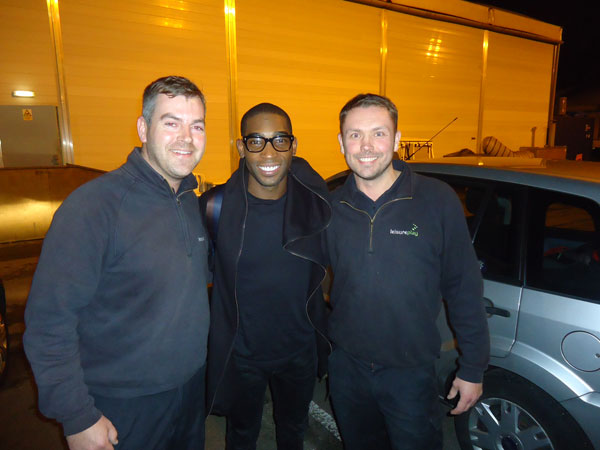 It's Hitting in the Stars!
As well as being jukebox specialists we also rent out other types of coin-operated amusement equipment, including boxer machines.
Recently, we received a call from Fremantlemedia – the company that creates hit shows such as X Factor, Take Me Out and Celebrity Juice. They wanted to hire a boxer machine for a feature on the new BBC 3 show, 'Staying In with Greg & Russell' which is hosted by comedian Russell Kane and Radio 1 DJ and TV presenter Greg James.
"X Factor, Take Me Out and Celebrity Juice"
That week's guest list included up and coming comedian Joe Lycett, Xtra Factor presenter Caroline Flack, plus rapper and global superstar Tinie Tempah. The production company wanted the boxer machine for a feature on the show and they decorated it with a Tinie Tempah theme. They placed his face on the machine with a low score showing as Tinie Tempah and a high score reading being Tryannasaurus Tempah.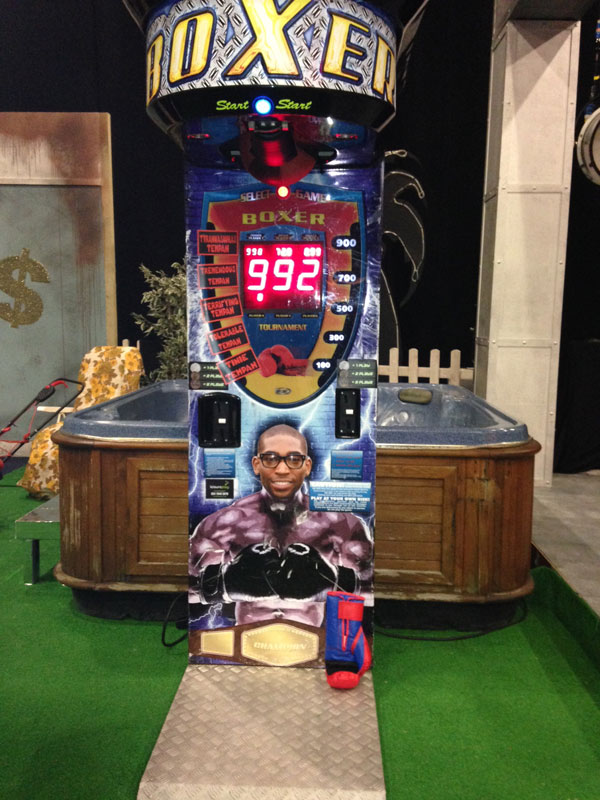 The idea of the boxing machine is to test your strength by hitting the punch ball on the machine. The score is shown on the LED display screen. Part of the fun is trying to beat the high score.
Tinie Tempah who used to be renowned for his diminutive stature, has recently bulked up at the gym and so unsurprisingly he got the highest score of the night with an impressive 998.
"Tinie Tempah was so impressed… he wants one for his games room!"
In fact, the punch machine went down a storm with all of the guests and was real highlight on the show – we couldn't get away after filming stopped as everyone working on the set wanted a go as well. Tinie Tempah was so impressed that he approached us after the show about the possibility of one for his games room!
Boxer machines at parties and special events keep people entertained. They attract people to play and watch others play. We hire boxer machines out to exhibitions on a regular basis because they draw people in and keep people on their stand longer.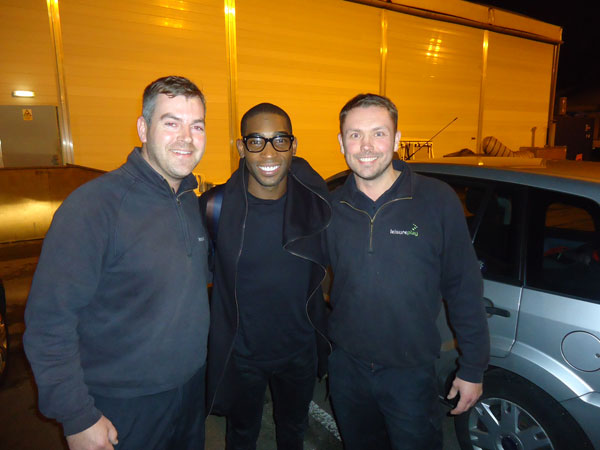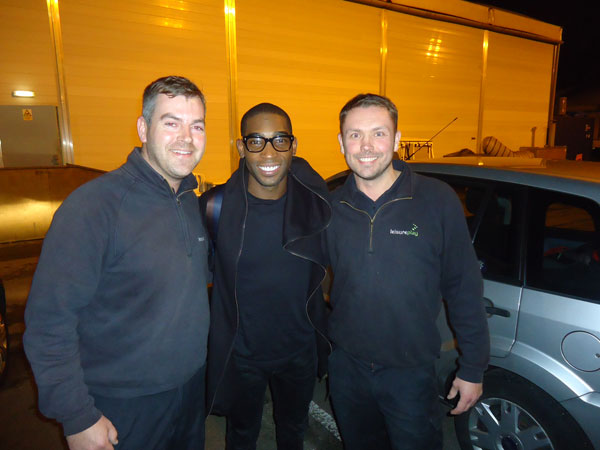 Digital jukeboxes do the same thing. They entertain people, draw people in and keep customers in your pub, bar or social club longer. But one thing that puts digital jukeboxes ahead of all other types of coin-operated amusement and gaming machines, including boxer games is longevity.
Where fruit machines and video arcade machines have a limited life span before they need to be changed or updated, jukeboxes remain as fresh as the music that is played on them. That's why good music content and new music updates are essential to maintain customer interest and cash box levels.
"our online jukeboxes are updated twice a week"
Unlike many other pub jukeboxes, our online jukeboxes are updated twice a week with new music including the very latest Top 40 chart releases, new album titles and pre-release singles.
We know from experience how important music content is. We've turned sites around by going in choosing the right jukebox for their venue and profiling the jukebox with the music that is going to work for them.
One thing that is certain is that it is new music, such as Tinie Tempah's latest single 'Children of the Sun', that gets played most on a jukebox. That's why all our jukeboxes are put online by either using the sites existing internet or by the use of a Mi Fi dongle. So when a song enters the charts on a Sunday evening it will be available on the jukebox by opening time Monday morning. Keeping your customers interested, providing a great music service, maintaining healthy cash box profits.
To hire a jukebox that packs a punch in your location contact us today.
The following two tabs change content below.
Marc Bird
Jukebox Technician
at
Hire Jukebox
Hire Jukebox
supply digital touchscreen jukeboxes to pubs, clubs and other social venues.
Latest posts by Marc Bird (see all)