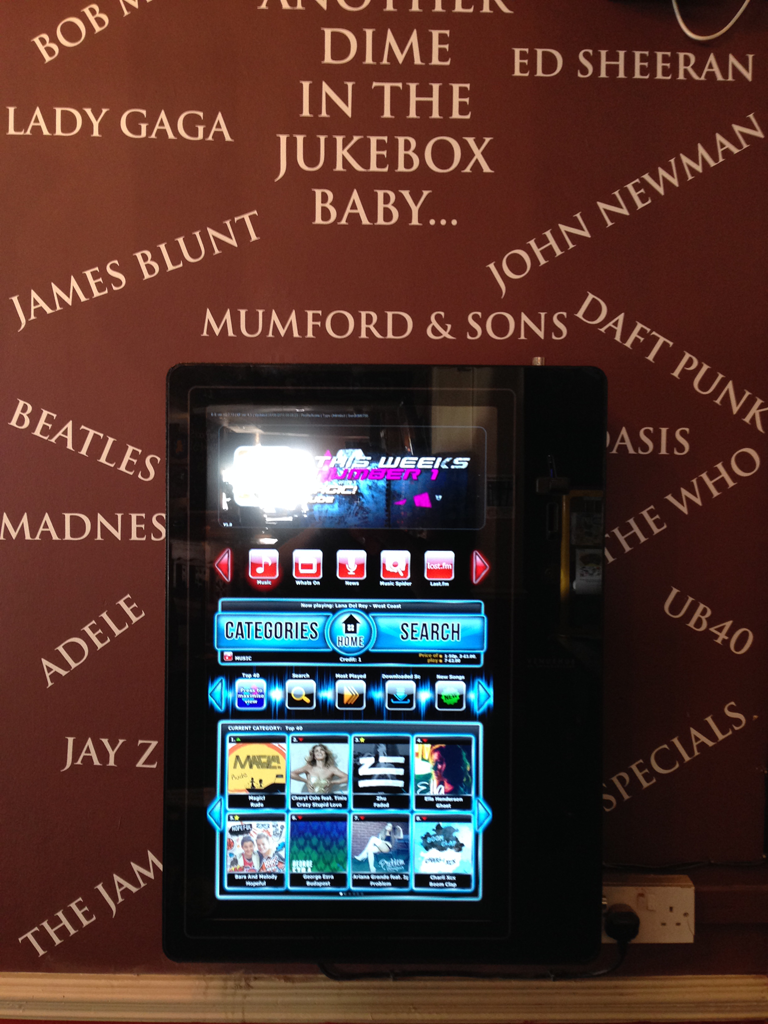 10 of the Most Popular Christmas Songs to Play on a Pub Jukebox
Ever since digital downloads counted towards the UK Singles Chart (2007) many of these popular Christmas songs re-enter the chart during the festive season. Do you have them all on your pub jukebox? 
#10 Stay Another Day – East 17 – 1994
Released in 1994, 'Stay Another Day' by 'East 17' was the third single released from their second album. It turned out to be the only number one song ever produced by the East London boy band and to this day it remains their biggest hit. The Christmas bells were added into the song, towards the end of production, in order for it to do well in the Christmas singles charts.
#9 White Christmas – Bing Crosby – 1942
'White Christmas', written by 'Irving Berlin' and sung by 'Bing Crosby', was released in 1942 and has been credited with selling 50 million copies worldwide. 'White Christmas' holds the Guinness World Record for the best-selling single of all time, retaining that title for more than 50 years! The song is also the most-recorded Christmas song ever. There have been more than 500 recorded versions of the song, in several different languages.
#8 Merry Xmas Everybody – Slade – 1973
English rock band 'Slade' first asked us if we were hanging up our stockings on the wall back in 1973, with the hit Christmas single 'Merry Christmas Everyone'. It was the band's best-selling single and their last number one. Thirty four years later, in 2007 it was voted the UK's most popular Christmas song. Covered by numerous recording artists since, the song is comprised of melodies from discarded songs that were written six years previous to its release.
#7 Driving Home for Christmas – Chris Rea -1986
'Driving Home for Christmas' was first released by 'Chris Rea' back in 1986, since then it has briefly charted in the top 40 singles every year at Christmas. Used for supermarket giant 'Iceland's' Christmas commercials in 1997, 1998 and 2011, with the latter featuring a cover by the supermarket's most recent cover girl, 'Stacey Solomon'. In 2009 a video featuring a host of celebrities was made to accompany the song in aid of 'Shelter' a homeless charity. All proceeds were donated to the charity.
#6 Merry Christmas Everyone – Shakin' Stevens – 1985
At number 6 on our list of popular Christmas songs to play on a pub jukebox is 'Merry Christmas Everyone', which was Welsh singer 'Shakin' Stevens' 4th UK number one. It was originally due to be released in 1984, however the song was postponed for a year so as not to clash with Band Aid's 'Do They Know It's Christmas'. In 1985 'Merry Christmas Everyone' made the top spot in the UK top 40 charts for Christmas. From 2007 to 2011, the song charted in the UK at positions 22, 36, 49, 47, and 42 respectively.
#5 Do They Know It's Christmas – Band Aid – 1984
Written by Sir Bob Geldof and Midge Ure, 'Do They Know It's Christmas' was a charity single recorded in 1984 by 'Band Aid', an eighties supergroup consisting of some of the greatest recording artists of that era. The song was also a huge hit all around the world, reaching number one in thirteen other countries. 'Do They Know It's Christmas' was re-released in 1985, when it made it to number three in the charts. 'Band Aid 20', another supergroup, recorded a third version of the song in November 2004 for the twentieth anniversary of the original recording, which again got to number one. 'Do They Know It's Christmas' is the biggest selling UK single of all-time.
#4 I Wish It Could Be Christmas Everyday – Wizzard – 1973
'I Wish it Could be Christmas Everyday' was originally beaten to the 1973 Christmas Number 1 spot by the previously mentioned Christmas song 'Merry Xmas Everybody'. It was re-recorded in 1981 and again in 1984. As downloads became eligible, due to the song's long-lasting popularity, and with the help of additional exposure thanks to an Argos television advertisement, the song charted again in December 2007, this time reaching position sixteen, despite the absence of an actual physical re-release.
#3 All I Want for Christmas – Mariah Carey – 1994
Written and produced by Mariah Carey 'All I Want for Christmas' was released in 1994 as the lead single from her album 'Merry Christmas'. 'All I Want for Christmas' has seen sales of over 14 million copies and the song continues to surge in popularity each holiday season. It remains Mariah Carey's biggest hit and one of the best-selling singles of all time. In 2013 the song was reported to have earned $50 million in royalties.
#2 Last Christmas – Wham – 1984
'Last Christmas' by popular duo 'Wham' is another eighties festive mega-hit on our list of popular Christmas songs. Produced by george Michael, the song has endured numerous cover versions ever since, including the likes of 'Whigfield', 'Billie Piper', 'Jimmy Eats World', 'Cascada', 'Ariana Grande' and 'The Crazy Frog'. Meaning that a version of this song usually graces the charts each Christmas. In Germany, 'Last Christmas' is the most successful Christmas single of all time!
#1 Fairytale of New York – The Pogues – 1987
'Fairytale of new York' was originally written in 1985 by  Jem Finer and Shane MacGowan. The song underwent some rewrites and lost its original female vocalist, to finally be completed and released in 1987 by Finer and MacGowan's band 'The Pogues', as a duet with Kirsty MacColl.  The song has reached the UK top twenty on eleven separate occasions since its original release, including every year since 2005.